Latest news on pensions in Scotland. Essential information about the pension schemes UNISON members belong to, UNISON Scotland publications, and links to other useful sources of information – www.pensionsscotland.org
UNISON works to defend good pension schemes and improve and promote affordable, decent pensions for all our members, wherever you work.
Latest news

More Pensions News
Latest documents

UNISON is Scotland's largest healthcare trade union representing over 50,000 members working in NHS Scotland and related services. All of ...
Read More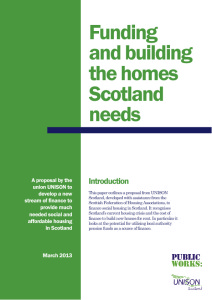 Funding And Building The Homes Scotland Needs - Mar 2013 A proposal by the union UNISON to develop a new stream of finance ...
Read More
More on briefings page

More on responses page